Mustard Bites: A Tasteful Adventure
Taste the world through grains of mustard. Prepared or as individual seeds, mustard is commonly used in the cuisines of India and Bangladesh, the Mediterranean, northern and southeastern Europe, Asia, Africa and both of the Americas. When you add herbs, spices, oils, varieties of vinegar, salts and peppers, fungi, fruits and vegetables, spirits, wine and beer, you open an infinite set of flavor possibilities. Indeed, mustard is the most popular and widely used condiment in the world.
No one is more passionate about mustard than the National Mustard Museum! We invite you to join us on a mustard adventure where you and your friends, family, guests or business associates can gather for a uniquely tasteful experience.
"A culinary experience like no other …"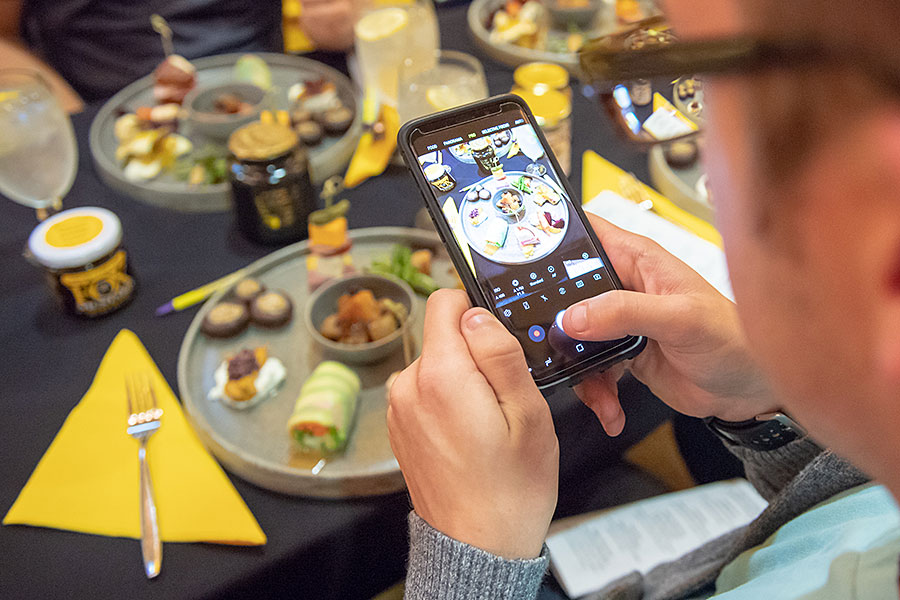 About 'Mustard Bites'…
Here's what your group can expect from your mustard adventure:
Relax as you savor a seasonally-inspired, locally-sourced "Nine Mustard Bites Plate". Our most popular and exotic mustards are carefully selected and paired with nine delicious bites.
Learn more about the history of this humble little seed, and why mustard is a globetrotter in the world of cuisine.
Broaden your knowledge of the five "Basic Tastes" and how three different flavor profiles affect the palate when tasting mustard.
Discover the backgrounds and inspirations of the mustard makers. Many have been inducted into our Mustard Hall of Fame and are winners in the annual World-Wide Mustard Competition held at the National Mustard Museum.
Experience a hands-on cooking demo.
Take home great mustard-related recipes and cooking tips.
Embark on a guided tour of the National Mustard Museum.
Enjoy private shopping and unlimited tasting at the Gift Shop's famous Ultimate Tasting Bar. You can sample mustards (nearly 400 at last count) and more from our epicurean pantry.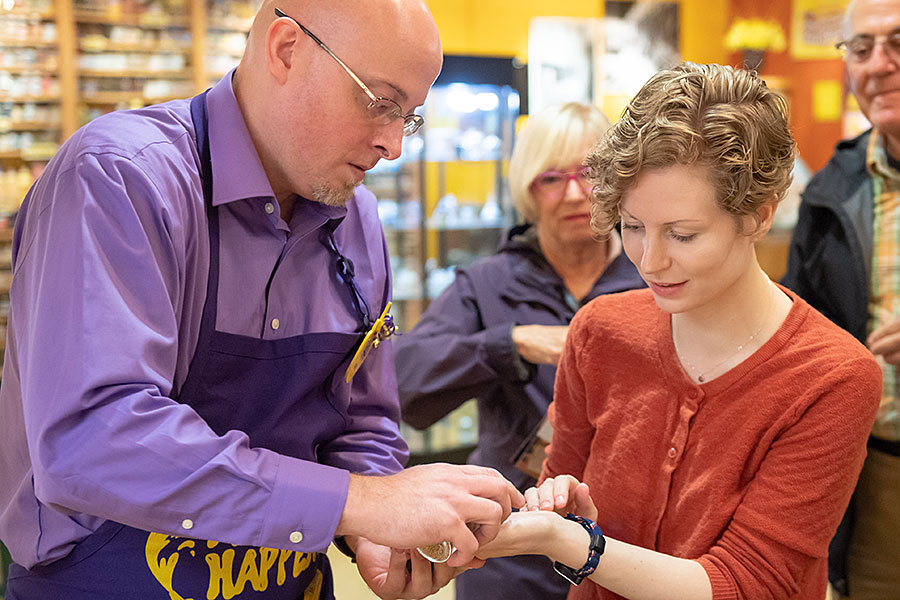 Event Details
To book your private group for a Mustard Bites Adventure, call Patti Bridges at 608-831-2222 or email mbitesinfo@mustardmuseum.com to plan your group event.
We also host public events, though there are currently none scheduled. Check back for future public events that you can join via Eventbrite.
Event Type: Private Group or Public Event
Cost: $45 per person
Event Duration: 1.5-2 hours
Number of Participants: minimum of 12 with a maximum of 48
Availability: Year round, typically from 6-8pm
Advance notice: For Private Groups please give a two-week notice; for Public Events registration will close 48-hours in advance of event (when seats are still available)
---
"Mustard Bites was so cool! We booked our group of 16 and everyone had the same reaction. Learned so much. Had no idea tasting & pairing mustards could be as fun as a wine tasting!"
Kari S. via Facebook review (2019)